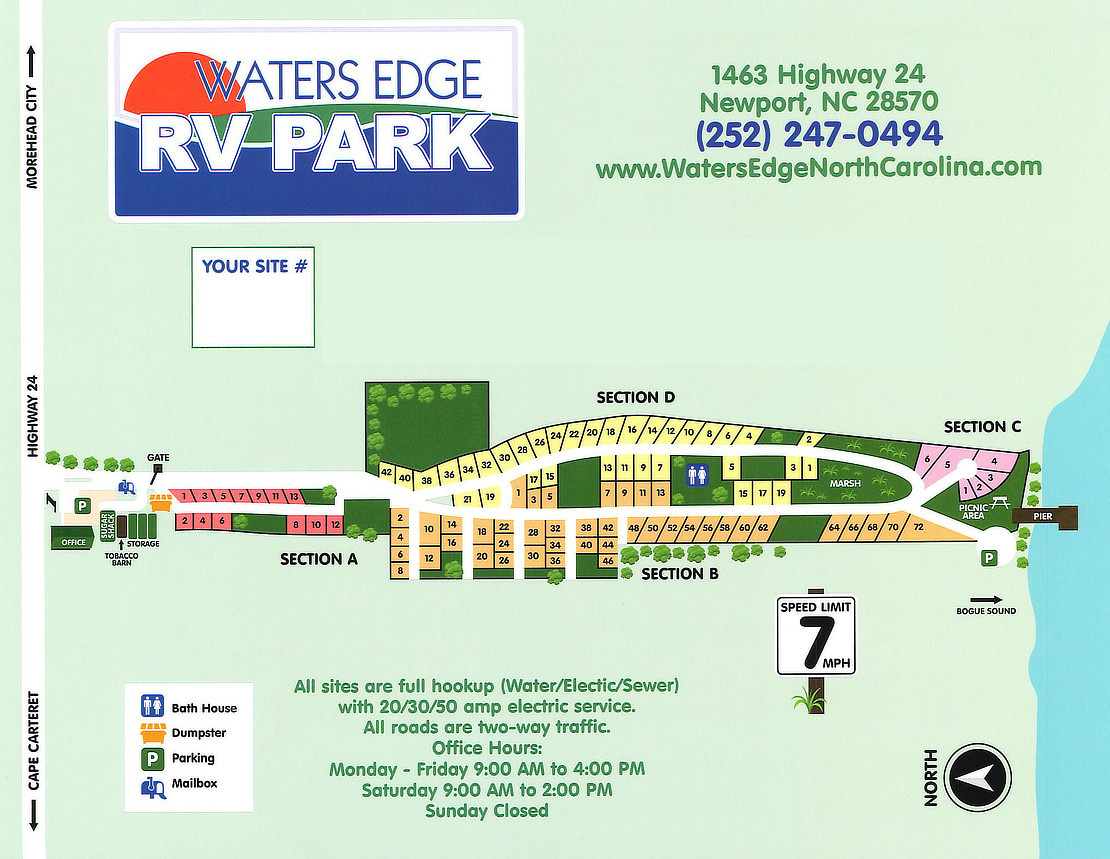 Click here for larger PDF map.
Some of the Park Rules
For your pleasure and enjoyment, we ask your assistance in observing our park rules. We have developed these guidelines with your health, safety and general well-being in mind.
1. QUIET HOURS are to be observed from 10:00 pm until 7:00 am.
2. CHECK IN 2:00PM & CHECK OUT 11:00AM. These are strictly enforced during the summer season. If you would like to extend your stay beyond your scheduled departure date, please check with the office prior to 10:00 am to determine availability.
3. SPEED LIMIT is 7 mph. If you exceed the speed limit we reserve the right to ask you to vacate the premises. Please understand that this is only to ensure the safety of you, your family and other guests.
4. TRASH: Please bag and deposit trash in the dumpster located behind the office area and not in Rest Rooms. We take pride in our park so please help us by cleaning up your site before leaving (this includes cigarette butts and gum/candy wrappers).
5. VISITORS AND GUESTS must register at the office.
6. Absolutely NO FIREWORKS or FIREARMS of any kind are allowed.
7. ALCOHOL will not be allowed to be consumed by minors. Those guests who are of NC legal age, please no open display of alcoholic beverages.
8. OPEN CAMP FIRES are prohibited. Fire pits (with legs and a cover) are acceptable.
9. BBQ GRILLS should be supervised at all times with safety in mind. Please make sure grills are completely out before retiring or leaving the area. DO NOT use grills on the picnic tables.
10. CHILDREN are to be supervised by an adult at all times. They must be accompanied by an adult to any park facility (including bath house and water front). Children must be on their own site by 10:00pm. No bicycle riding after dark for your safety. Helmets are mandatory according to NC state law for children 15 years of age or younger. NO SKATEBOARDS, ROLLER SKATES, HOVER BOARDS, etc. allowed in the park.
11. LIFEGUARDS are not provided here in our park and we are waterfront. Please be aware that you are responsible for you and your guests and that Waters Edge in no way accepts responsibility for accidents, injuries or loss of any kind. Oyster and clamshells are present and have sharp edges. For your safety wear footwear while in the water and walking through our park. Please clean up all grass and debris left from your crab pots, nets, lines, bait, etc. when using the pier.
12. TENT SITES are not available at this time. Subject to prior Park Management approval (which approval may be held at the Park Management's discretion), appropriately sized screened enclosures that are not used as sleeping quarters may be permitted on a site with an RV. Screened enclosures that have one or more sides or portions of one or more sides that do not consist entirely of mosquito netting material may be denied approval by Management.
13. PICNIC TABLES are available for your convenience. Please do not use nails or staples on the tables.
PETS: We love pets. You are welcome to bring small, well-behaved house pets. Cats must stay indoors or be on a leash. In order to make everyone's stay enjoyable, please observe the following rules:
*Pets are NEVER allowed to be chained or kenneled/fenced at your site
*Pets must be on a LEASH at all times
*Exotic animals and guard dogs are not allowed
*Excessive barking is NOT tolerated
*Clean up after them - "they poop, you scoop"
GOLF CARTS: Electric Carts are allowed ONLY if (1) the customer is 21 years of age and (2) customer has a physician's note stating the cart is necessary for medical reasons and (3) customer has received approval from management. Also, customer is responsible for carrying proper insurance.
BOATS: You must fill our a boat parking permit in the office.
FLAGS: Only the United States flag and the current official flag of North Carolina may be flown. Tasteful garden flags are also allowed.
REFUNDS will not be issued. Please pay for those nights that you are only certain you will need.
The staff at Waters Edge thanks you for staying in our Park. Please let us know if there is anything that we can do to make your visit more enjoyable.